~ Transform the look of your home or office simply by adding some color & design. ~
Sewing Services

Custom Window Treatments
Embellished Decorative Throw Pillows & Shams
Seat Cushion & Slip Covers
Bedspreads & Bed Skirts
Shower Curtains
Tablecloths, Placemats & Linen Napkins
Pieced Quilt Tops & Machine Quilting
Lamberquins & Cornices
Upholstery & Headboards

Design Services

Designing Window Treatments
Paint & Wallpaper Selection
Coordinating Color & Fabrics
Update Patio Furniture Cushions
Window Lighting & Temperature Control
Accessorizing & Picture Hanging
Room Arrangement
Downsizing Home Consultation
---
* * * * * * * * * * * * * * * * * * * *
Testimonials
Gayle Carson ~ Mt. Pleasant, SC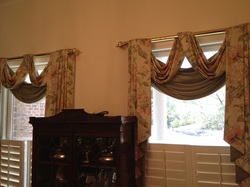 My home architect advised against draperies for my "retirement home" to dramatize the open, tall and light lines of the home. However, Becky advised me to at least put draperies to my dining room windows for a more "finished & formal" look. She created a dramatically clean and light design to enhance the openness of the house. I have never seen any window treatments like them and continue to be proudly pleased of her treatments. I would recommend her work and her taste to anyone as she retains and compliments a customer's own preferences! Thank you Becky!

---
---
Gail & Jim Copeland ~ Raleigh, NC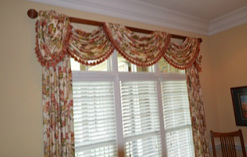 Becky, Thank you so very much for designing and constructing the window treatments for our new home. We appreciate your redesign and repairing our existing window treatments to fit our new windows also. The installation was on time and just as we planned. It was so much fun working with you and we look forward to completion of our next project: our vacation condo.

---
---